'Vanavond werk ik iedereen de deur uit (man) of het bed in (kroost) om ongestoord dit verhaal uit te kunnen lezen. En dan zal ik spijt hebben dat het uit is.', schreef ik gisteren op Goodreads.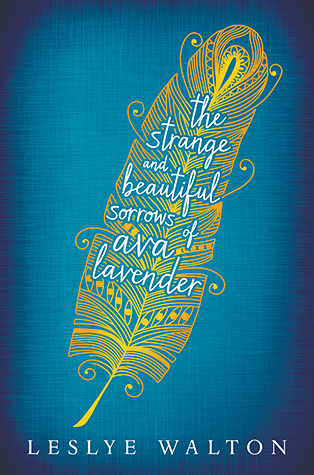 Bij
Verbeelding
pikte ik deze boekentip op: Ava Lavender wordt geboren met vleugels. Geen witte vleugels zoals engelen, maar bruine vleugels als van een vogel. Niemand kan verklaren hoe dit komt. In het boek kijkt Ava terug op haar familiegeschiedenis:
My grandmother fell in love three times before her nineteenth birthday. My mother found love with the neighbor boy when she was six.
And I, I was born with wings, a misfit who didn't dare to expect something as grandiose as love....my story, like everyone's, begins with the past and a family tree. The following is the story of my young life as I lived it…. I have traveled through continents, languages, and time trying to understand all that I am and all that has made me such.
Dit boek pakte me helemaal in. Waar ik kon, wanneer ik kon zat ik te lezen. De taal is prachtig en de sfeer is om van te snoepen. Een mix van
Chocolat
,
Big Fish
en Un long dimanche de fiançailles. Door heel het verhaal heen zijn kleinere verhalen geweven. Losse portretten, soms absurd, maar nooit te. Alles wordt met een zekere vanzelfsprekendheid geserveerd zodat je nooit vraagtekens zet bij het waarom.
'Wat als het niet mooi eindigt', vreesde ik nog. Maar eigenlijk deed het einde er niet toe. Het is een verhaal over liefde in al zijn vormen. Hoe liefde mooi en ontwapenend kan zijn. Maar ook hoe liefde hetgeen kan zijn dat het meeste schaadt en snijdt.
Ik hoop dat dit boek de toon kan zetten voor dit leesjaar, want dan wordt het een ongelooflijk aangenaam jaar.